The Alberta Society of Fiddlers incorporated as a society in 1992. Until that time there had not been a society on Alberta that helped to connect fiddle events in the province. Many fiddle contests and jamborees had been supported by their local communities, but had not been provincially advertised. As a result the ASF was incorporated with a mandate to encourage, amongst Alberta's public, young and old alike; a participation in, an appreciation for, and the preservation of fiddle music as a worthy cultural, recreation and heritage pursuit.
The ASF Hall of Recognition is a gathering of biographies of Alberta residents who have in some way, contributed to preserving and promoting fiddle music in their community and beyond.
Ed Schweigert – Medicine Hat, Alberta
Ed was born on a farm west of Maple Creek, Saskatchewan, on December 22, 1921.  Growing up, his family lived in various places in Saskatchewan including Murraydale, Princinel, Farewell Creek and Crossfel.  Ed enlisted in the Canadian army in July 1942.  Over the next three years he would be based in Halifax, Dundurn, Sussex, Fredericton and finally Regina, where he was discharged in 1945.
Ed married May Simon on November 6, 1944.  They began their married life farming at Crossfel, Saskatchewan.  From there they would move to Maple Creek where Ed worked for the Canadian Pacific Railway for five years. Ed had received training in mechanics while enlisted in the army. He made use of this skill by working as a mechanic at Maple Creek, something he would do until 1973.   Ed and May also spent a few years in Penticton, B.C., eventually moving to Medicine Hat, Alberta in 1976, where Ed still lives in his own home today.  Sadly, Ed's wife of 57 years, May, passed away in March of 2012.  Ed and his wife May have three boys, Grant, Ron, and Philip and their families.
Ed began playing the fiddle when he was 5 years old. His immediate family played instruments and Ed "took a liking to the violin."  He played for his first dance at the age of nine and at the age of sixteen bought a fiddle with his own money – all 75 cents worth!  He still plays this violin today.  Ed built an apparatus that he could operate with his feet that would strum a guitar while he was playing his violin (see photo). Ed tried his hand with a lot of instruments ,being self-taught on piano, accordian, and guitar to name a few.  Over the years, the dance was Ed's avenue to make use of his musical talents.  Local events, weddings, anniversaries, and birthday parties became a constant commitment with his music.  The Cypress Hills Hillbillies, The Walmar Band and The Alberta 99 Band were some of the dance bands Ed was involved with.  His interest and support also went toward the Penticton Old Tyme Fiddlers, The Swift Current Old Tyme Fiddlers and the Medicine Hat Old Tyme Fiddle Contest.  Ed competed at many contests across Western Canada and into the U.S.A., winning over 35 first place standings.  He also judged a number of fiddle contests over the years and volunteered as a regional director for the Alberta Society of Fiddlers.  Ed has built fourteen violins, which have all been sold except for one favorite still remaining in his home.  Ed has written, recorded and published a total of 18 tunes. In 2010,he kindly donated two fiddle tunes for the ASF Original Alberta Fiddle Tune Book, the Cypress Hills Blues, and the Prince Albert Waltz.
One of his memorable music moments occurred when he was in the army and stationed at Halifax.  An acquaintance got Ed a "pass" and took him to a place where Don Messer and his Islanders were playing.  He got to meet Cec McEachern , Waldo Monroe, Charlie Chamberlain, Marg Osborne and, of course, Don Messer himself.  Later that evening, the band went to a private home to practice and Ed and his buddy were invited to come along.  Don Messer asked Ed to join in.  Ed was apprehensive, to which Don replied "how do you think we got started?  What would you like to play?  Don Messer's Breakdown?"  Ed agreed and away they went, playing another half dozen tunes.
Ed also met Al Cherny, the fiddler from the Tommy Hunter Show.  Al was playing in Medicine Hat for a local event.  Ed shared the stage with his dance band and was invited to play along with Al.
Ed says his favorite tunes are The Morning Glory Waltz, Rippling Water Jig and the Loggers Breakdown.
At the age of 91, Ed still plays his fiddle at the seniors' home in Medicine Hat a few times a month.  He says he knows what the joy of fiddle music does to the people as they begin to tap their fingers and toes – the same feeling of enjoyment that Ed has experienced throughout his lifetime.
Submitted by Randy Jones
November 16, 2012
Alfred Gauthier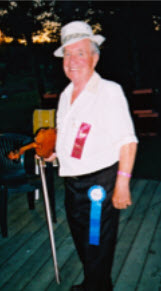 Alfred was born in Plamondon, Alberta. He began playing the fiddle at the young age of 8 years old and by 14 was headlining many of the local dances throughout the Plamondon/ Lac La Biche region. He first developed his passion for the violin when his older brother Willard, then owner of the family violin, went outside to work the farm with their dad Isidore leaving Alfred with many opportunities to sneak under Willard's bed to retrieve the instrument for his own use and practice. It was then that he realized his mother Mary's patience, forced to listen to those first few months of the fiddle's squeaks and squawks from the upstairs bedroom which eventually gave way to the melodies of the tunes she recognized and enjoyed from the radio. It wasn't long afterwards that the family violin was relocated to it's new location in the farm house under Alfred's bed. Thus began many years of Saturday night kitchen parties entertaining the aunts and uncles along with their very large families during the Gauthier family gatherings. About this same time the young ladies started taking notice of this 17 year old talent on stage, all hoping for a wink or a tune sent their way by this handsome young home town fiddle star. Yvette Menard must have turned his head the right way when they soon started a courtship after an introduction at a local dance and married 2 years later in August 1945.
Family, career and community events kept Alfred busy over the next few years but he always dedicated a few hours every week to his fiddle either playing a little each evening or joining some of the local resident musicians in the many Northern Alberta and NWT towns he called home. He and Yvette hosted many music (kitchen) parties at home as they had one of the few pianos in town, as well as three daughters; Jeanne, Luci, and Paulette, along with their good friend Charlie Gaudet that could play it and accompany Alfred and the band members. Every Saturday night his home became the favourite place to be for some good ole time fiddling, singing, with lots of room to dance. His favourite memory is that of the evening Graham Townsend, while on tour in Ft McMurray at the time, came over to party and play some twin fiddling. Alfred was also often accompanied by the late Ray St Germain on guitar for his stage gigs.
Alfred's work career spanned some 43 years starting as a journeyman carpenter in Edmonton in the early 50's, working at various housing construction sites as well as Eaton's department store after hours building their showcases, to a superintendent position with The Provincial Government overseeing the construction projects of many of Ft McMurray's landmark buildings. By the time he retired in 1987 he had relocated to Lac La Biche as a consultant on many other central Alberta Provincial buildings that included colleges, court houses and county offices. Following an event Alfred played in Lac La Biche, he was soon requested to play at and headline many music events and dances throughout the region thus allowing him the opportunity to enjoy playing the fiddle full time.
Due to a demanding playing schedule he and his band mates decided to put their own group together called "The Buddies". By popular request he released his first, "same titled" CD "The Buddies", recorded with his band, at Daryl Plamondon Studios in the late 80's. Sadly, in January 1991 Alfred lost his wife Yvette in a car accident on their way to Yuma, Arizona for their winter vacation. He took a break from playing for awhile as he was also critically injured needing time to heal and recover on his own. That following summer Alfred's daughter Luci asked him to ride along with her to a fiddle contest in Wetaskiwin for a Sunday outing however when he got to the event he decided to compete as well. He placed 2nd in his division and the competitive bug caught. Soon after he met and married his second wife Nancy and was married in June 1996.
Over the next few years Alfred continued to compete and win some of the smaller regional contests he joined. In July 2004 at the of 79, he placed 1st in the Seniors division at the "Grand North American" Old Time fiddle contest winning his first blue ribbon. It was the same year his great nephew from the Menard family, Daniel Gervais won the "Open Division".
In 2009 Alfred recorded his 2nd CD titled " Silver and Gold", recorded at Calvin Vollrath's St Paul studios which was a collection of some of his favourite fiddle tunes. This CD was recorded with his daughter Luci Roy providing piano accompaniment and Calvin playing many instrumental backups, as well as Ray St Germain on guitar. The CD was a tribute to their stage name "Silver and Gold" and was their combined wish to record and produce a CD together. Luci composed and dedicated a crowd favourite waltz, number 23 on the CD, called "Goldie's Waltz for Dad". They still play under the stage name of "Silver and Gold" at various gigs and social events in the greater Edmonton area and on occasion his other daughter Jeanne joins him on piano. As well, Alfred plays numerous other gigs with his other band mates Charlie and Vic at various Spruce Grove and Stony Plain venues since his move to Spruce Grove 12 years ago.
In 2014 at the age of 89 and again in 2015 at the age 90, Alfred placed first at the "Grand North American" fiddle championships in the Golden Age division, placed first in the Senior's division in 2016 at the age of 91, and just recently on July 15th, 2017, at the age of 92, again placed first in the Golden Age category. Nothing seems to slow this man down. In the 84 years that his fiddle and bow have entertained his many listeners, Alfred has always attributed his talent and his joy of playing as a gift from God. He recently celebrated his 92 birthday in May and continues to celebrate each day with music when he can, learning new tunes to play when he's not on his iPad or working on his woodworking projects in his carpenter shop. People that know Alfred personally have all been blessed by his friendly manner, his quick wittedness, and his sense of humour. It's a joy just to be around him.
Regretfully Alfred Gauthier passed away on August 18th, 2017 following a brief battle with Leukemia shortly before this newsletter was scheduled to be printed. It is his family's wish that he still be recognized "posthumously" for his inspiration and contribution to fiddle music as well as his great love for it.